...
On the supervisor, start the Qube WranglerView! US.  It should connect to the supervisor service and show the supervisor hostname and license count in the WranglerView UI title bar:

Image Removed

Image Added
The fact that it's showing only 2 licenses just means that you haven't installed your licenses yet, but Qube will run up to 2 job instances without a license.  See If you see 0 licenses you will need to install the licenses on the supervisor. See License Installation if you have a license key to install.
Test the supervisor connectivity
Use the WranglerView Qube! UI Administration menu to test the supervisor's network connectivity from the worker machine:
Image Removed

Image Added
It should bring up a dialog: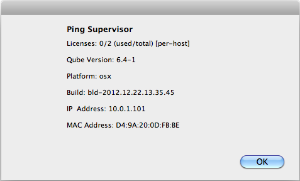 Image Removed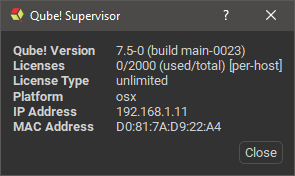 Image Added
If you see this, your supervisor is up and running and responding to requests.
...