Below Is an expandable view of the "Qube (ImagesToMovie) Job..." Jobtype Submission UI
Please click on the text below the section of interest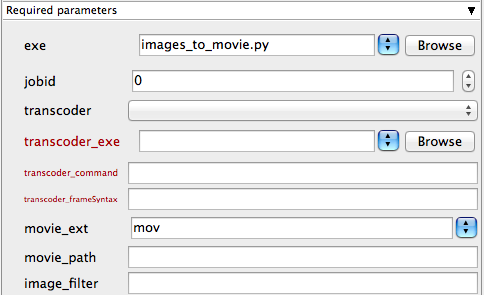 exe
Tooltip - explicit path to executable
jobid
Tooltip - jobid with output images to transcode to a movie
transcoder
Tooltip - available transcoders
transcoder_exe
Tooltip - path to transcoder executable
transcoder_command
Tooltip - transcoder command to run
transcoder_frameSyntax
Tooltip - the syntax used to indicate frames for the transcoder (ie. # or %4d)
movie_ext
Tooltip - movie extension
movie_path
Tooltip - Directory or movie filename.  Override default movie location (same directory as images).  End with / to denote a directory. (ie. "../" means up one directory from images dir)
image_filter
Tooltip - regular expression (regex) for filtering the images to put into the movie.  Useful if multiple layers used in render.

Click here for details...
Cmd Template
This is used to create the command string for launching the job on the worker. It will be set differently depending on the application you are launching from.
Shell (Linux/OSX)
Explicitly specify the Linux/OS X shell to use when executing the command (defaults to /bin/sh).