...
1. Download the Install Wizard
2. Launch the Install Wizard
3. Install the Supervisor
4. Install a Worker / Client
5. Submit Test Jobs
That's it! After you've got this far, you can submit jobs for hero applications such as Maya, 3dsMax, Nuke, and many others.
...
You can launch the Qube! Wrangler GUI from here if you like, but let's keep going and finish the install. So click through to the end and exit the install wizard. But continue following the instructions on this page. If you are installing on Windows, at this point you will see a desktop icon for Qube! WranglerView.
4. Install a Worker & Client
...
To do the install, we are assuming you already have a Supervisor installed on the network/subnet. You can install the Worker and Client on a different computer, or if you want to do a simple evaluation of Qube!, on the same one you just used for the Supervisor. If it is a different computer, it can have a different OS from the Supervisor - but if it does, you will need to go back to Step 1 and download the appropriate installer for the Worker / Client OS.
For the purposes of this Quickstart, we are going to install both Worker and Client at the same time on the same machine. Launch the installer again, and click through to the Component Selection screen. This time, select Worker, and then also click on the checkbox labeled "Qube! ArtistView":
...
Again, the installer will download the selected components, and then install them. When this completes, you will see buttons allowing you to submit some test jobs. We'll do that in the next section. So keep reading...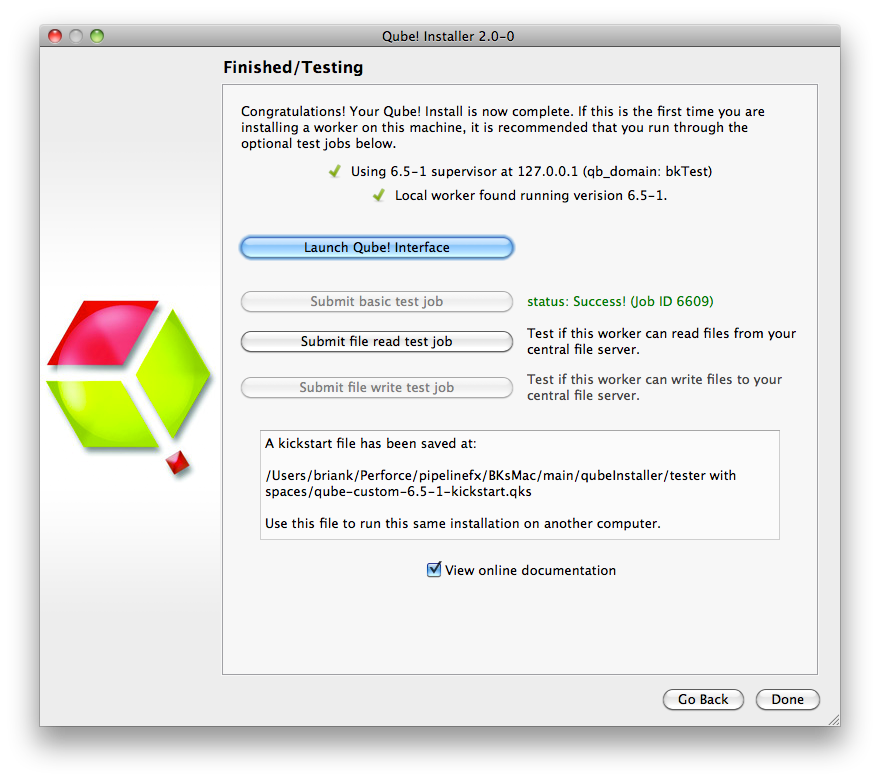 5. Submit Basic Test Jobs
...
At this point, your supervisor and worker are up and going. You can install more workers and/or clients by using the installer again, or by using the kickstart files. You can find help with submitting specific kinds of jobs, for example Maya or After Effects, in the Submitting Jobs section.
Licensing
At this point, Qube! is running 2 evaluation licenses (these are Designer licenses, which will only allow one job to run on a worker at a time). You can use these licenses to evaluate Qube! indefinitely, but if you want to run more Workers you will need to purchase licenses for them. Instructions for installing additional licenses are on the License Installation page.
...