...
Panel
| | |
| --- | --- |
| title | Step 1 (First Time Only) |
Install Jobtypes
Section
Column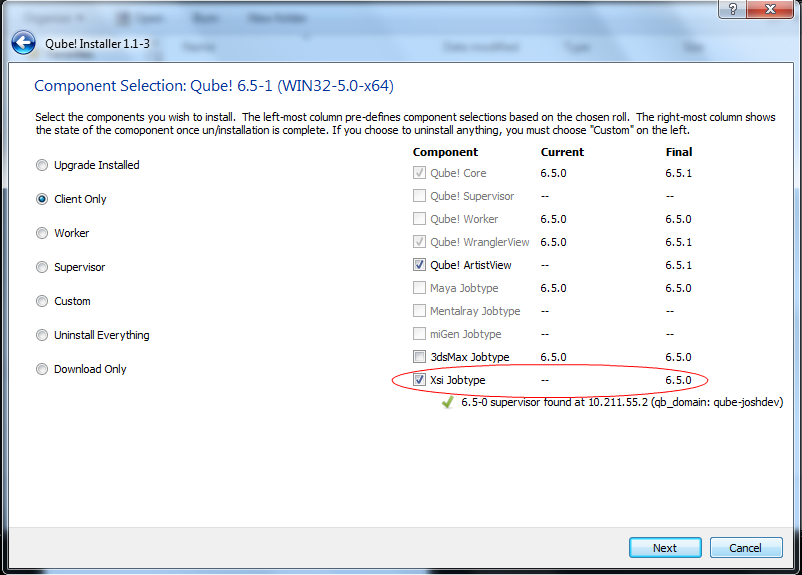 ---
Section
Column
Alternatively:
If you only wish to use the "Batch XSI jobs" you can install the InApp plugins via the Qube! WranglerView.
File > Install App UI > Install XSI BatchRender App UI
Column
...
Panel
Section
Column
Click 'Submit'
For further details on the submission UI see below.
Column
Panel
If you find you are getting errors here are some useful links for troubleshooting
Job Submission Details

Note
Not all sections need to be filled in in order to render only the fields marked in red are required.
Include+
scrollPageId

405BE23F014B092BECE9892A21AF14C8

scrollEditorDisplayTitle

_SimpleCMD_QubeJobBasics

scrollEditorUrl

http://docs.pipelinefx.com/display/QUBE/

_SimpleCMD_QubeJobBasics
Include+
scrollPageId

405BE23F014B092BECE9892A21AF14C8

405BE23F014B092BED48A6FD55687243
includeplus
scrollEditorDisplayTitle

_SimpleCMD_QubeFrameRangeWithChunk

scrollEditorUrl

http://docs.pipelinefx.com/display/QUBE/

_SimpleCMD_QubeFrameRangeWithChunk
Include+
scrollPageId

405BE23F014B092BED48A6FD55687243

405BE23F014B092BECDB9A2A7F86FA3C
includeplus
scrollEditorDisplayTitle

_SimpleCMD_PreviewFramesSubmission

scrollEditorUrl

http://docs.pipelinefx.com/display/QUBE/

_SimpleCMD_PreviewFramesSubmission
Include+
scrollPageId

405BE23F014B092BECDB9A2A7F86FA3C

405BE23F014B092BEE07EAB9520D93BD
includeplus
scrollEditorDisplayTitle

_SimpleCMD_ParametersXSI

scrollEditorUrl

http://docs.pipelinefx.com/display/QUBE/

_SimpleCMD_ParametersXSI
Include+
scrollPageId

405BE23F014B092BEE07EAB9520D93BD

405BE23F014B092BED058D3406665A24
includeplus
scrollEditorDisplayTitle

_SimpleCMD_QubeJobTags

scrollEditorUrl

http://docs.pipelinefx.com/display/QUBE/

_SimpleCMD_QubeJobTags
Include+
scrollPageId

405BE23F014B092BED058D3406665A24

405BE23F014B092BED0EE4246B9B43C9
includeplus
scrollEditorDisplayTitle

_SimpleCMD_QubeWorkerSelection

scrollEditorUrl

http://docs.pipelinefx.com/display/QUBE/

_SimpleCMD_QubeWorkerSelection
Include+
scrollPageId

405BE23F014B092BED0EE4246B9B43C9

405BE23F014B092BED21EDF55CD47477
includeplus
scrollEditorDisplayTitle

_SimpleCmd_AdvancedJobControl

scrollEditorUrl

http://docs.pipelinefx.com/display/QUBE/

_SimpleCmd_AdvancedJobControl
Include+
scrollPageId

405BE23F014B092BED21EDF55CD47477

405BE23F014B092BED2900AF0E13DE30
includeplus
scrollEditorDisplayTitle

_SimpleCMD_QubeJobEnvironment

scrollEditorUrl

http://docs.pipelinefx.com/display/QUBE/

_SimpleCMD_QubeJobEnvironment
Include+
scrollPageId

405BE23F014B092BED2900AF0E13DE30

405BE23F014B092BED37493F7556F3F0
includeplus
scrollEditorDisplayTitle

_SimpleCMD_QubeActions

scrollEditorUrl

http://docs.pipelinefx.com/display/QUBE/

_SimpleCMD_QubeActions
Include+
scrollPageId

405BE23F014B092BED37493F7556F3F0

405BE23F014B092BED3FFA6C6ABA7BCD
includeplus
scrollEditorDisplayTitle

_SimpleCMD_QubeNotes

scrollEditorUrl

http://docs.pipelinefx.com/display/QUBE/

_SimpleCMD_QubeNotes

scrollPageId

405BE23F014B092BED3FFA6C6ABA7BCD